The highest products quality

Well-qualified team of specialists

Partnership relations with the customers
Plast-Farb always delivers only the best quality products.
Plast-Farb exists on plastic packaging market since 1987. Currently our company is among leading Polish plastic manufacturers.
In our offer we have wide range of security products – envelopes, bags, STEB's, security tape and security seal tape. We also produce bags and carrier bags. Every product can be designed according to customer requirements.
in numbers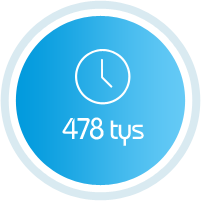 thousands machine
working hours